Right before LDI this year in Las Vegas, Michael Zinman announced the release of PocketLD for the Apple iPhone application.  The PocketLD is a database and calculation tool for the entertainment lighting professional.  With PocketLD, you are able to enter the throw distance that you require, then select a manufacturer of a particular lighting fixture and lamp.  PocketLD will calculate the beam and field diameter as well as the foot canleda and lumens that will be produced with the information you selected. PocketLD offer access directly to the manufacturers website by touching their respective URL within the application to learn more about a particular fixture.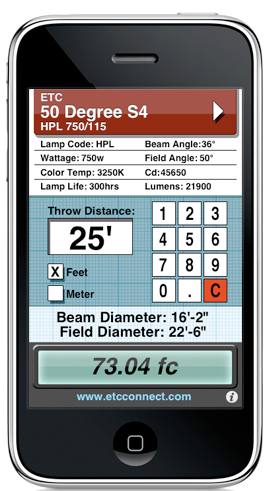 Manufacturers Included in the application:
ADV
Altman Stage Lighting – Theatre/TV/Film/HID
Arri
Colortran/Leviton
Electronic Theatre Controls (ETC)
Mole Richardson
Selecon
Strand Lighting – Theatre/TV/Film/HID
Generic PAR fixtures
Fixture & Lamp Databases Included in the application:
Beam & Field Angles
ANSI Lamp codes
Wattage
Color Temperature (Kelvin)
Lamp Hours
Candela
Lumens
Website URL's
While the price of the PocketLD application seems a bit high, it does offer the ability to check many things with out the need to go back to manufacturers product print outs or website.  You can view a quicktime movie of PocketLD offered on Michael Zinman website.  You can also download a PDF of the complete library that comes with the application to see what exactly is offered.
The PocketLD is only available in the English language and requires the 2.0 iPhone software update through apple.  PocketLD works on both the iPhone and iPod Touch. To purchase PocketLD, visit iTunes.
To learn more about the PocketLD application or any of the other iPhone applications that Michael Zinman had developed, visit www.lightingiphoneapps.com
Share

Comments