At LDI this year in Las Vegas, the makers of the Hippotizer Media Server announced the up coming release of the Hippo Critter Media Server.  Hippo Critter is the smallest addition to the Hippotizer family.  The Hippo Citter is a full working version of it's big brother, the Hippotizer Media Server, just in a much smaller package weighing in at 6lbs. and rough measurements of 8″ x 6″ x 10″.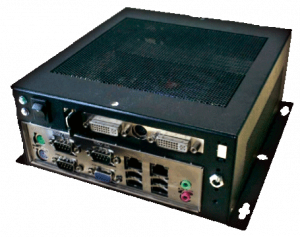 The Hippo Critter is ideal for fixed installations , architectural applications where space matters.  With such a small package, the Hippo Critter is able to be mounted directly to the back of a flat screen or hidden in a set out of the way.
Here is a listing of the Preliminary Features:
Class leading video playback and rel-time rendering
2 FX engines per later, 100+ effects per FX engine
Frame accurate synchronization across multiple servers
Media Manager with live media updating
Timeline scheduling against the clock for standalone operation
Keystone and ScreenWrap for non-linear projection surfaces
Soft-Edge Blending
4 layers (720 x 576_ or 2 layers (1280×720)
Unlimited universes of PixelMapper for LED fixtures
Control of external devices via RS232 or TCPIP
Remote management, upoad and configuration via HippoNet
External Control from DMX/MIDI/TCP-IP/RS232
Automation component for use with moving staging, truss, etc.
External 'CritterPlate available for flexible mounting options.
All of Green Hippo products are distrobuted throguh TMB.  The Hippo Critter is expected to start shipping early in 2009 with a retail price under $10,000.  For more information on Green Hippo products, visit their website at www.greenhippo.com.  To find a dealer or to purchase Green Hippo products, visit TMB's website at www.tmb.com.
Share

Comments