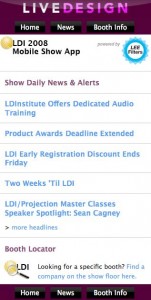 Are you attending LDI 2008 in Las Vegas this year? If so, Live Design, the people that put on LDI have something for you.
To help you at the show with finding booths and the latest show info, Live Design has created a  web app for the iPhone and iTouch.  You will be able to get up to the minute details about the show, what's happening and when it is happening.
A nice feature is the booth information.  Rather then carring around the massive show book with all the ad's and booth listing, you'll have access to that right in your iPhone or iTouch.
The down fall of this service is that it depends on an internet connection.  While this is not a problem with the iPhone as there is the Edge or 3G band avilable in the convention center, iTouch user have to connect to a WiFi hotspot.  While the convention center does have WiFi all over the center, you have to pay for the service.
This is service is powered or sponsored by Lee Filters.
Click the screen shot above to go directly to the Live Design Web App.
Share

Comments