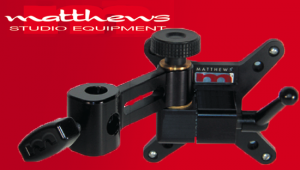 Matthews Studio Equipment out of Hollywood California recently announced a new addition to their grip equipment for mounting LCD monitors called the Monitor Mount (861862).
The Monitor Mount utilizes the standard in mounting systems, the VESA system in both 100mm and 200mm.  The Monitor Mount can support up to 65lbs. (30Kg) monitors and can quickly adjust to any angle for the best viewing angle.
The Monitor Mount from MSEGrip is CNC machined from 6061T-6 aluminum billet which offer the strongest, and most versatile and compact monitor mount available.  The Matthews Monitor Mount works with any mounting device with a 5/8″ baby pin.  The standard in the grip industry.
The Matthews Monitor Mounting system offers the entertainment industry the ability to quickly and easy deploy a monitor for any type of application from monitor placement for consoles, prompting monitors on set to digital displays in the architectural application.
For more information or to purchase the Matthews Monitor Mount visit msegrip.com. To find a dealer near you visit the dealer section on Matthews website.
Share

Comments