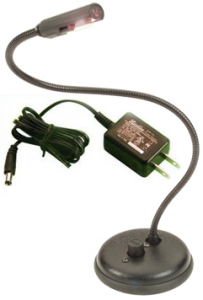 In the past six months, Littlite, the makers of the industry standard when it comes to console work lights updated their entire line up of power supplies and weighted base.
The most significant change that Littlite made to their power supply is the fact that rather then being a huge "wall wart" which can be troublesome to find a place for in a power strip or outlets behind a console.  Littlite updated the power supply to a much smaller transformer that can easily find a home in a cluttered power strip hidden behind a console or work station.  Littlite also updated the connection from the littlite to the power station with a mini power connection.  So adding a longer power cable is much simpler now.
As mentioned before, Littlite also changed the weighted base style.  The foot print will pretty much remain the same, but the new style offerers a rubber strip that goes around the entire bottom of the base thus reducing sliding and possible marking of a desk.
To  find out more about littlites products, visit their website at www.littlite.com.  Contact your local dealer for pricing.
Share

Comments