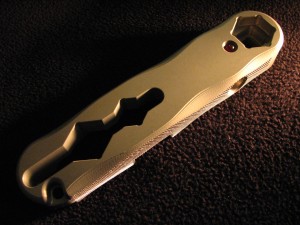 The Ultimate Focus Tool was introduced at LDI 2007 by StageJunk.com.  The tool is made out of light weight aluminum with a hard coat anodized finish with a rough sides for easy handling.  The finish is wear resistant and will not damage steel or iron nuts and bolts.  The aluminum construction makes it light weight thus easy on the pockets, belt or wrist, where ever the user wants to store it.
The tool boast 24 different uses.  Any where from the three main bolts and nuts found on almost every conventional light out there, the c-clamp, yoke bolt and "f" me nut.  Another nice part about the tool is that it can fit wing nuts, thumb screws and road case handles to name a couple more.
Some more nice features about the Ultimate Focus Tool is the built in continuity checker.  Works on any incandescent or halogen lamp.  On one side, you place side of the ends of the lamp in the metal disc and then the other lamp pin on any part of the tool and if the lamp is still working, the little red LED comes on.  We have found that this even works while the lamp is still inside of the fixture and using the fixtures connector to check the lamp.
Another feature built into the UFT is the stage pin splitter.  This is just one more tool that you do not have to carry around!  The total count on tools that we do not have to carry anymore… 3, c-wrench, gamchek, and pin splitter!  The UFT even has a ring built in to attached a lanyard or any other means of securing the tool to your person.
Down Falls – While the UFT does boast 24 uses, after trying to tool is the real world, we have found that the tool lacks the ability to work on a Scafold Clamps bolt.  We could not find any part of the tool that would fit the 3/4″ bolt.  Although we did find a place on the fixture where this could be corrected, just a hint for the manufacturer!
The last and final down fall of the product is it's price, a whooping $90 from stagejunk.com.  But there are resellers out there that may be able to offer the UFT for less.  Visit Stagejunk.com to find a reseller near you.
Other Version – There are other version of the UFT.  The standard focus tool has all the same bolt and nuts ability's but lacks the continuity checker and the pin splitter. The standard focus tool goes for $40. There is one more version called the Ultimate Shackle Buster which has basically one use and goes for $28 on stagejunk.com
Share

Comments