Robe Lighting introduced two new lighting fixtures at LDI this year in Las Vegas, the DigialSpot 7000DT and the DigitalSpot 3000DT.  Both of these fixtures are Digital projection luminaries that not only project video images, but function as light instruments.  Robe jump head first into the digital projection market with these fixtures and touted at their booth at LDI that digital projection is the way of the future and is here and ready.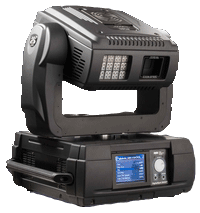 DigitalSpot 3000DT
Robe's DigitalSpot 300DT is their first Digital Moving Light Projector that combines their REDWash (Robe Emitted Diodes) LED module and Digital Projector to create a fixture that is able not only to wash with a large amount of color choices, but also use projections.  The 3000DT emits 2.700 Ansi lumens from a single 200W projection lamp with a contrast ratio of 2,000:1.  The lamp is rated at 4,000 lamp hours and has an aspect ratio of 4:3 with an XGA resolution of 1,024×768 and can produce a full 16.7 million color palette. The DigitalSpot 3000DT in a single Road Case retails for $19,900. Learn more about the DigitalSpot 3000DT visit the product page at www.robelighting.com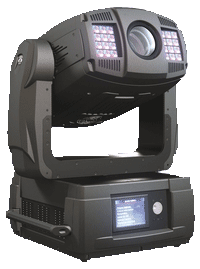 DigitalSpot 7000DT
The DigitalSpot 7000DT is the second offering from Robe Lighting and offers a high output in lumens for digital projections.  The 7000DT uses a 330W lamp and emit 6,500 ANSI lumens with a contrast ratio of 2,000:1.  Each of the two LED modules use 48 Luxeon Rebel RDBW LED's.
The 7000DT offers both DVI and SDI input/outputs to make getting video in and out of the fixture easy and efficiently with out having to worry about different connector or video signal requirements.
The 7000DT also offers web access through the fixture to provide total control and configuration of the fixture with user library management.  To learn more about the DigitalSpot 700DT, visit the product page at www.robelighting.com.
Both fixtures offer some of the standard features such as:
5″ TFT LCD display & Robe navigation system
Communication with active RDM running ROBE RDMNet
Pan movement range of 530°
Tilt movement range of 280°
16 bit movement resolution
DMX data in/out, locking 3-pin & 5-pin XLR
2 USB 2.0 connectors
ArtNet: RJ45
4 Digital Gobo Layers for Image and Video Control
Picture Merging effect in the field of up to 8×8 segments
Projection onto spherical surfaces, cylindrical surfaces and angular screens
Layer Media Control Modes (Copy, Add, Subtract, Multi, Minimum and Maximum)
Framing Shutter Effect for creating action scripts for Images or Videos
Digital Iris effect + 160 Masking effects
Full digital keystone correction facilities
Digital Strobe effect
CMY Image and Video Colour Mixing, plus CTC (Colour Temperature Correction)
PC or Laptop VGA or S-Video input for presentations
Composite video or S-Video input for the onboard Graphics Engine
DVI Input, SDI Input/output for professional Graphics Engine II
2 Effects Engines per Layer
Effect synchronization
Gobo (Image) Control Modes
Share

Comments