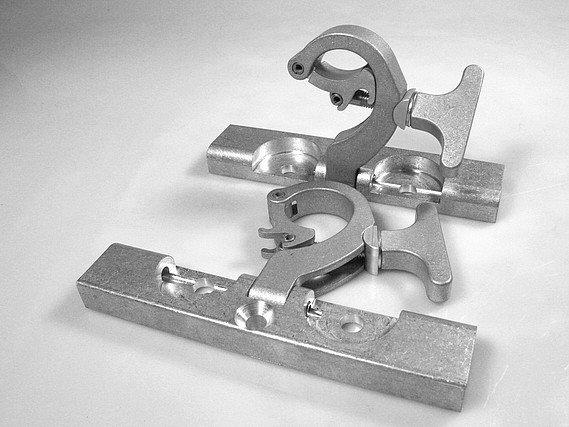 The Light Source added a new hanging hardware item to their line up this year at LDI in Las Vegas called the Mega-Folder.  The Mega-Folder is designed to fit almost any moving yoke light fixture.  The shear geniuos about about this hardware is the ability for the clamps to lay flat against the fixture for easy storage in a road case.  This eliminates the need to remove the pipe clamps in most cases to store the lighting fixture.
The Mega-Folder is designed to work in pairs as most moving yoke fixtures require two points of attachment to truss and/or pipes.  The Mega-Folder has a safe vertical operating load strength of 400lbs (182kg). The Mega-Folder attached os the fixtures with a 3/4″ bolt or a quarter turn camlock which is also used on the omega brackets.  A single Mega-Folder weights in at 2.4lbs (1kg) and comes in Anodized Black or Aluminum Finish.
To find out more information about the Mega-Folder visit The Light Sources website at www.thelightsource.com or find a local Light Source Dealer here to get a price and to purchase any of the The Light Sources fine products.
Share

Comments