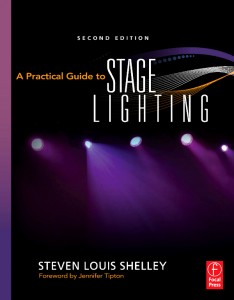 We received a message from Steve Shelly, the author of A Practical Guide To Stage Lighting, that the second edition of the book is getting ready to hit the shelves. The Second edition is 480 pages with over sixty new topics, twenty new forms and fifteen new drafting presentations not previously found in the first edition.
The first edition of PG2SL followed the process and explained one set of methods used to create and apply paperwork that culminated in a fully mounted lighting design for the musical Hokey. This second edition pulls back the wizard's curtain to reveal the step-by-step processes involved in the creation and realization of that lighting design. Shelley expands his focus and provides his diacritical analysis into the methods and processes that take place to create the light plot and a lighting design in the first place.
From the back cover, Jim Moody writes:
If you are looking for esoteric design theory, this is not the book for you. However, if you need a get-down-to-business, everything you think you needed to know, nothing left out, lists of questions you should ask, answers you should consider, check lists, and the most extensive graphic layout of forms and focus information in any book, then this second edition has answered all your questions and a bunch you didn't think you needed to know. You have got to have this book if you consider yourself a professional, period.
A Practical Guide To Stage Lighting, Second Edition goes on sale starting October 5, 2009 from Focal Press at $49.95 USD.  To learn more about the book and to get your copy, visit www.focalpress.com.
Share

Comments