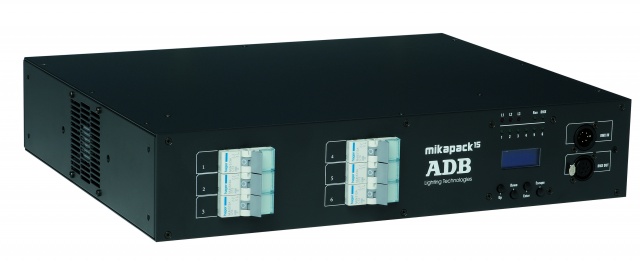 ADB Lighting Technologies out of Zaventem Belgium just introduced a new entry level dimmer pack, the MIKAPACK Dimmer line up.  The MIKAPACK line of dimmers is designed for entry levelmarkets where flexibility and increased programming functionality is still required.
MIKAPACK 15 is a 6 Channel compact portable dimmer built in a 19" rack only 2 Units high, with an optional truss clamping kit for distributed dimming solutions. The dimmer unit is 4kg lighter than its predecessor at just 10,3kg, and offers a wide range of common European connectors; while for fixed rack installations a terminal connector strip is also available.

The new MIKAPACK 15 can control 6 channels of up to 3000 Watt, continuously to all 6 channels on full load for ambient temperatures up to 35°C. Filtering has also been improved over previous dimmer design available from ADB Lighting.
For more information on the MIKAPACK, visit ADB Lighting's website at www.adblighting.com.
Share

Comments