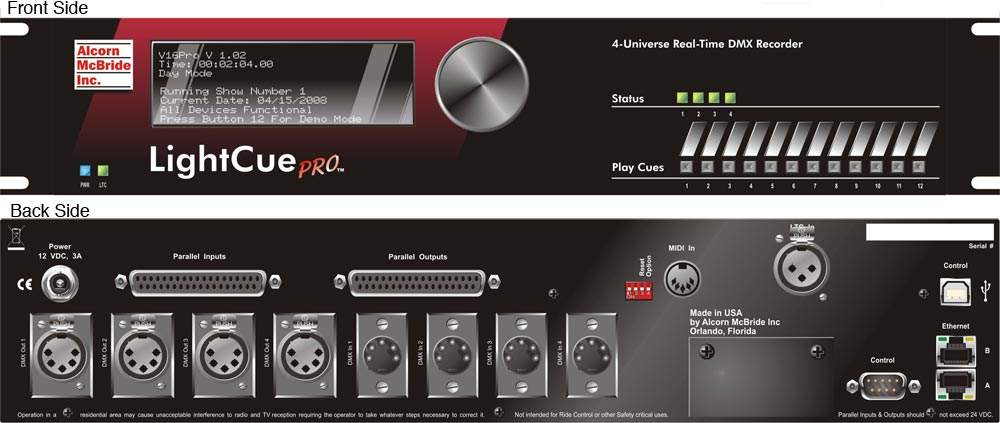 Alcorn McBride, the makers of audio, video and lighting control products for themed entertainment such as theme parks and museums is set to announce their latest lighting control product, the LightCue Pro. The new LightCue Pro expands on their current LightCue product by offering four universes of DMX verses the one universe DMX offered on the LightCue.  Other included features include control and updating of the LightCue Pro over Ethernet, MIDI control and a real-time clock. The LighCue Pro also offer a new DMX override function which allows for fast and easy manual control of DMX fixtures.
The LightCue Pro provides simple capture and consistent playback of DMX data. Over 100 hours of playback may be stored on the LightCue Pro. The unit can be operated via front panel push buttons, SMPTE, RS-232, Ethernet or parallel contacts. It can also pile-on up to 40 cues simultaneously. Users can create a schedule to trigger playback using the built-in real-time clock and use the unit's cue management software to examine and edit the recorded DMX data on a PC.
Alcorn McBride is set to announce the LightCue Pro at the LDI Show this year in Orlanndo Fl on November 20.  If you are attending the LDI Show this year, stop by the Alcorn McBride booth, 464 to see the LightCue Pro in action.
Share

Comments