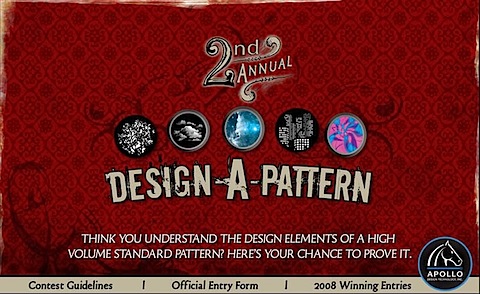 Back at the beginning of February, we wrote about the announcement of the 2nd Annual Design-A-Pattern contest from Apollo Design.  This is just a friendly reminder that the contest ends in just 7, yes 7 days on April 30, 2009.  Be sure to submit your designs before then to be entered into the contest.
Contest Rules:
Entries accepted February 12 through April 30, 2009
Entrants must verify they are submitting ORIGINAL, non-copyright artwork
Metal, B&W glass, gray Scale glass and colored glass submissions are accepted
All qualified entries will be posted to Apollo's website on May 4, 2009 until June 15, 2009
Site visitors will vote for their favorite pattern.
Top voted entries will be included in Apollo's new patterns for 2010.
For more information and detailed guidelines on the contest, visit Apollo Design's website at www.apollodesign.net and GOOD LUCK!
Share

Comments