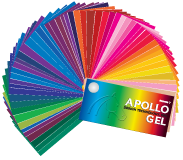 It is that time of year when schools and theatre's begin to stock up on the things they need during the course of the year.  One thing that we just can not live without in theatre are gels.  Of course with the multitude of gel manufacturers and then of course the shear number of gels offered by each of those manufacturers, stocking up can be hard.  But there are always the "standard" colors that are almost always used.
Apollo Design has stepped up and begun a new gel rebate program during the "stock up" time of year.  With a minimum purchase of 10 sheets or 1 roll of Apollo Gel from authorized U.S. dealers, you can receive $1 per sheet of $15 per roll cash back from Apollo.  The Gel Rebate Promotion ends on September 22, 2009.
To learn more about the Gel Rebate Promotion and to download the mail-in rebate redemption form, visit Apollo Design's web site at www.apollodesign.net.
Share

Comments