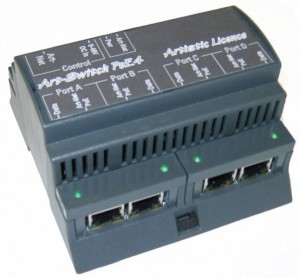 Artistic Licence announced the release of their latest addition to their Art-Net range, the Art-Switch PoE4. The Art-Switch PoE4 is designed to provide power and data over cat5 cable to such products as the Art-Lynx or any other Art-Net node.  This eliminates the need for additional power supplies for the individual nodes.  This type of data and power distro is called PoE or Power-over-Ethernet.
The Art-Switch PoE4 has five 10/100BaseT Ethernet ports on board, four ports support the PoE while the fifth is network in.  Each port is capable of auto-configuration which includes speed, duplex and cable type and complies with IEEE802.3af Ethernet standards.
The Art-Switch PoE4 requires a 48v power input and can be housed on a DIN Rail system or surfaced mounted. The Art-Switch PoE4 runs £355.00 or $585.00 USD.  To learn more about the Art-Switch PoE4 or to purchase one, visit www.artisticlicence.com.
Share

Comments