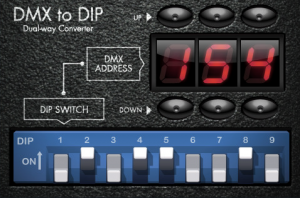 When it comes to DMX and dip switch calculators, the iPhone app market is over flowing. Well, we are adding another drop to the bucket in hopes that it the bucket doesn't tip over. Back at the beginning of August, 40oz Apps, the developers of the BAC Monitor app, released another app to their line up called DMX to DIP.
From the name you can pretty clearly tell what the app does. Just like all the others out their you can enter in a DMX address and get the dip switch position for fixtures that still use dip switches for addressing. You can also do the reverse, turn on and off dip switches and the app will let you know what the address is.
Now, what is so different about this app?  Nothing, other then the wonderful display and design of the app.  This app really makes us want to touch and play with the app. Plus, the app does exactly what it says with it's simple, easy and clean design.  It might just be worth the .99 cents from the iTunes App Store.
Share

Comments