Back at Light Fair this year, we came across a new LED lamp manufacture, EcoSense. They produce some pretty neat replacement LED par lamps for the Par30 and MR16. The EcoSpec PAR30 pictured left is a  flicker-free dimming LED from 100% to 10% with a lamp life of 50,000 hours. The EcoSpec PAR30 has a E25 base or medium screw base so it fits any standard socket.  What is really amazing is that the lamp pulls 16.5 watts at 100% and produces 760 lumens with the Neutral White lamp. The lamps run off standard 100VAC ~120VAC and for the other side of the Atlantic, 220VAC ~240VAC.
There are two color temperatures available, Warm White at 3000k and Neutral White at 4000K.  The EcoSpec PAR30 also has two beam angles available, 15 and 40 degree spreads and comes with a 3 year limited warranty from the factory.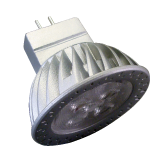 EcoSense also produces an MR16 LED lamp called the EcoSpec MR16.  Just like it's Big Brother, the EcoSpec PAR30, the EcoSpec MR16 is flicker free dimming from 100% to 10% and has a lamp life of 50,000 hours.
The EcoSpec MR16 LED lamp uses 5 watts of power with a lumen output of 240 in the neutral white version and operates off of 12VDC.  The MR16 lamp utilizes a bi-pin configuration, or in other words the standard GU3.5 base found in MR16 strips.
The EcoSpec MR16 is available in two color temperatures as well, again Warm White at 2800k and Neutral White at 4000k.
We have not been able to locate a retail price on the EcoSense lamps as of yet, but we are quite certain like any LED lamp replacement, they are costly compared to their tungsten or halogen counterparts.  But over time, LED replacement lamps have been shown to have a cost savings.  For more information on the EcoSense LED lamp replacements and to locate a dealer near you, visit the EcoSense website at www.ecosenselighting.com.
Share

Comments