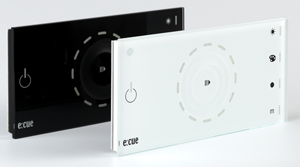 What do you get when you take the beautiful design and function of a 1st through 3rd generation iPod and add lighting control and playback, easy, the E:Cue Light-Drive Elite!
The Light Drive Elite by E:Cue is a wall mounted standalone DMX controller and interactive user interface for dynamic lighting.  What exactly does that mean?  Similar to the iPod scroll wheel on the original iPod, users can "dial" in colors for LED fixtures. There is a memory function to save desirable colors to a palette for quick recall as well as color changing effects.
The device is connected via an Rj-45 connector for both power and data and can handle an entire universe of DMX, 512 channels. The light-Drive Elite as has an integrated IR receiver for remote control via the E:Cue remote control. The device has a glass finish sure to polish off any house with it's slim design and color choices of black or white.
We have note been able to locate a retail price at the time of writing.  For more information on the Light-Drive Elite, visit E:Cue's website at www.ecue.de.
Share

Comments