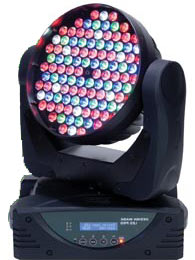 Elation Professional, an American DJ company, has just announced the latest LED fixture to the Pro line series of fixtures, the Design Wash LED Pro. The Design Wash LED Pro is an RGB+W color mixing moving head with an output comparable to a 250w discharge lamp fixture.
The Design Wash LED PRO is designed for entertainment and theatrical applications, where dramatic movement and a sense of excitement are demanded. A fully automated moving head, it delivers a 180 watt output from 60 3W RGBW SSC LEDS (22 red, 17 green, 15 blue and 6 white). The addition of white LEDs to the unit's RGB mix makes it possible to produce more vibrant colours and pastels as well as a true white.

The flicker free Design Wash LED PRO features a smooth dimmer (0-100%), 15° lens / 28° beam angle, 603° pan, and 265° tilt. Other features include 13 DMX channels, 3 pin and 5 pin DMX control, LCD display and on board control. The Design Wash LED PRO operates in DMX, Master/Slave and Sound Active modes.

Weighing in at only 16.75 lbs. (7.6 kg.) and measuring just 16.5" x 12.5" x 19" M (420 x 320 x 480 mm), the Design Wash LED PRO is afford ably priced with an MSRP of $2,499.95.
For more information on the Elation Design Wash LED Pro, visit their website at www.elationlighting.com.
Share

Comments