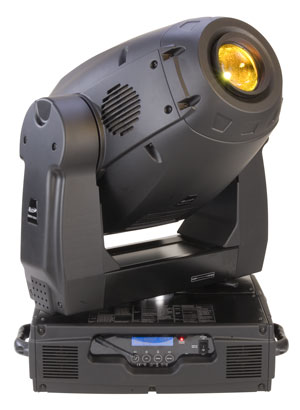 Just when you thought that moving lights couldn't pack anymore features inside, Elation blows the top off with the announcement of the Ultra-Compact Design Spot 1200C 1200w Hybrid Spot-Wash Moving Head with Wireless DMX.  Talk about a mouth full when trying to order one of these things!  For short, Elation is calling the new moving light, the Design Spot 1200C.
The Design Spit 1200C is housed in a small and lightweight case, similar to that of a 700W fixture, but illuminates with 1200W of output power.  With such a small package for such a high wattage lamp, you might think that some common features would be left out to make space, not true.  Contained in the small compact package is a hybrid Spot/Wash with CMY mixing, variable Frost Filter, Variable Zoom (16-41), 8 static/replaceable dichroic color wheel, 12 rotating/indexing gobos, an animation effects wheel, motorized Focus, Motorized Iris and 2 rotating/indexing prism effects.
Talk about action packed, the Design Spot 1200C has almost any feature a lighting design might possibly want all contained right in the fixture.  A feature also included in the Design Spot 1200C is something Electricians and Road Crews might like, an integrated EWDMX wireless DMX receiver.  So all the squint has to do now is get some power to the fixture and configure the fixture to connect to the wireless network with no need to run DMX cable.  For those who are not quite ready to run a fixture and show off wireless DMX yet, the Design Spot 1200C has both a 3 pin and 5 pin DMX in and out.
Retail price on the Elation Design Spot 1200C is $9,399.95.  To learn more about the fixture or to locate an Elation dealer near you, visit their website at www.elationlighting.com.
Share

Comments