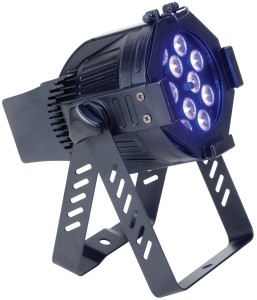 Elation Professional is adding an ultra-violet LED par can to the Opti Stage light series, the Opti 30 UV. The Opti 30 UV has 12 1 watt UV LEDs inside drawing just 20 watts of power. It has a 25° beam angle for a nice wide spread.  The Opti 30 UV also features 0-100% dimming and built in strobe effects.
Equipped with a 3-pin DMX connection, the Opti 30 UV operates on 2 DMX channels, one for controlling Intensity and the other for controlling the Strobe. A digital DMX display makes it very user friendly. As another easy option, the Opti 30 UV can be operated manually without a controller.
Made of sturdy high-impact aluminum, the Opti 30 UV is rugged enough to withstand touring production applications. It has an attractive black finish that complements virtually any setting. Its compact size of 10"L x 7.25"W x 5.75"H (250 mm x 185 mm x 145 mm), and light weight of just 5.3 lbs. (2.4 kg) make it easy to pack up, transport and install. The Opti 30 UV comes with double brackets that make it simple to set up the unit on the floor in addition to hanging it, for added versatility.
Like all LED fixtures, the Opti 30 UV's lamps have a long life (30,000 hours), allowing users to save on maintenance time and expenses. ETL approval is pending.
For more information on the Elation Opti 30 UV, visit their website at www.elationlighting.com.  The retail price of the Opti 30 UV is $399.95.
Share

Comments