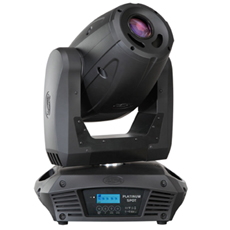 The product announcements just keep rolling in, LDI must be right around the corner. Elation Lighting is preparing to announce a "revolutionary" spot/wash moving light this year at the LDI Show. Elation is calling it the Platinum Spot 5R. What you cannot tell from the picture is that the Platinum is the size of a 250w fixture. Here's the kicker, Elation says that the fixture is comparable to a 575w fixture! Not only that, but the fixture uses 25% less energy and weighs 50% less then a comparable 250w fixture and still measures 2/3 the size.
Not only is the fixture smaller, lighter and brighter, Elation says that the fixture moves much faster on pan and tilt as well as color and gobos changes. So how did they do that? All Elation would mention is that the Platinum Spot 5R utilizes a brand new and advanced light source technology.
Since we cannot find any additional information on the fixture, we'll just have to visit the Elation Lighting booth, #703 at the LDI Show later this week. The Platinum Spot 5R is just one of 20 new products Elation will be introducing at LDI. To learn more about Elation's products, visit their website at www.elationlighting.com.
Share

Comments