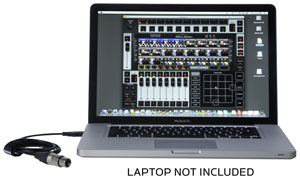 We love any news that is about of favorite operating systems and hardware.  We love it even more when the news includes Macs AND Lighting!
The new Emulation Control Software from Elation Professional is the next generation in software lighting control. It has all of the functional features that lighting professionals are accustomed to working with, says the company, like cue-lists, fixture groups, playbacks and globals but there is one big difference – they can run it on a Mac OS platform from the start. And, they won't have to spend a king's ransom for this privilege either.

"In the past lighting professionals had limited choices when it came to lighting control software," said Eric Loader, director of sales for Elation Professional. "We have been getting requests for years for a MAC OS lighting software from both Pro Lighting users and Musicians who all own MAC computers. Sure they could run their lighting software on a Windows platform by using a third party software and then go through the awkward, time-consuming process of running the application – but this was inefficient. We knew a MAC OS software would be the only way to make these users happy but it also had to be a software that spoke their "pro" language as well…this is led us to develop Emulation."

Emulation includes more than 1,500 fixture profiles from all major manufactures. Plus, since it provides a seamless, convenient way to work on the Mac platform, Emulation gives lighting professionals the best of both worlds. "It really fills a gap that existed in the controller world," said Loader. "Lighting professionals no longer have to choose between spending a lot of money, or making due with software that can't work directly with their Mac computers."

In addition to being compatible with Mac, the Emulation is available on OS X as well as Windows XP, Vista and Linux platforms. Aside from its Mac capabilities, the Emulation also allows LDs to work on their lightshows from a home PC, iPhone or any mobile device with a modern Internet browser.

The Emulation software is currently available in six languages – English, German, Spanish, French and Dutch. "It has all of the features and capabilities of much more expensive computer lighting control software," added Loader.
To learn more about the Elation Emulation Control Software for the Mac, visit Elation's website at www.elationlighting.com.
Via: LSIOnline
Share

Comments