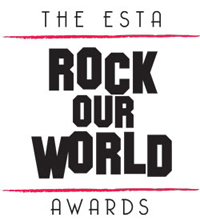 Have you seen a new product that you knew would change the industry, or one that was so simple but so brilliant you couldn't imagine why it hadn't been done before? Have you seen a product used in a way that was truly remarkable in its application, whether simple or complex? Have you seen a project that knocked your socks off because of the level of collaboration required or the magic it created? Now is your chance to acknowledge their impact.
ESTA created the Rock Our World Awards to honor groundbreaking achievement by its members. Don't wait until a quantum technology leap becomes a standard to celebrate it. This award was created to acknowledge the genius of both the creator of technology and the designer or integrator who applies the technology in a real world environment.
Who Can Enter?
Anyone in the industry may nominate a product, product application, or project, but an ESTA Member must be involved as the designer, manufacturer, supplier, or collaborator.
To learn more about the ESTA Rock Our World Awards Nomination Guidelines, visit the ESTA website at www.esta.org.
Share

Comments