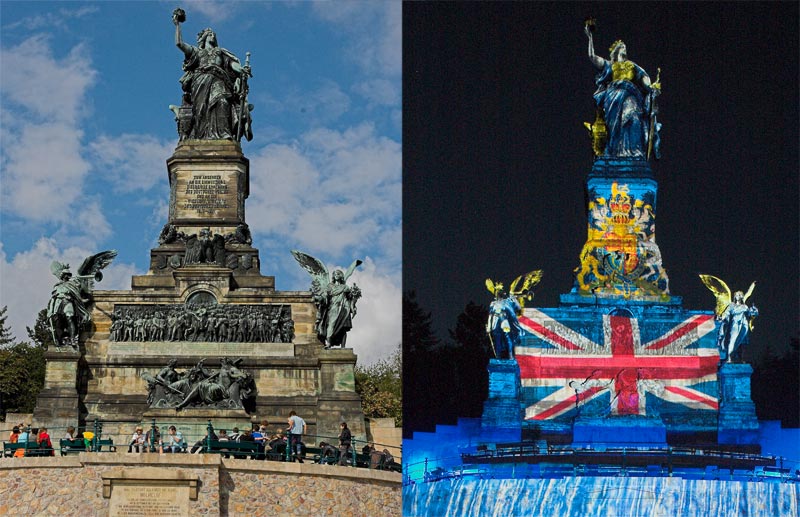 Here on iSquint, we get a lot of press release from manufacturers about how their products are being used on projects with some amazing photos.  While we appreciate all of those types of press releases, we here on iSquint focus of keeping our readers informed of news, products and services offered to the entertainment lighting industry. The latest press release that we received was from E/T/C London, (not Electronic Theatre Controls) talking about how Ross Ashton produced an amazing art work with video projections.  The above images really made us look at what can be done with light and video projections.  Truly amazing!
More from the press release:
E/T/C London's Ross Ashton was invited to create a video projection art work on the amazing Germania statue located in the Niederwald Landscape Park, near Rüdesheim am Rhein, Hesse, Germany, as part of the 2009 Rheinpartie Festival of Light.

Ashton's carefully crafted mix of colour and precision lighting transformed the imposing 38 metre tall monument, built to commemorate the foundation of the German Empire after the Franco Prussian war in 1883, into a symbol of European peace and harmony.

Ashton was first approached at the beginning of the year to contribute a work to the Festival by its curator and co-ordinator Helmut M. Bien, who already had Germania in mind as a site. Says Ashton "It was a huge honour to be invited to the Rheinpartie, and even more so to specifically be asked to work on a such a key site with the historic and strategic relevance of Germania".
Share

Comments