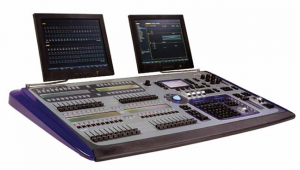 ETC has been previewing the latest update to the Congo line of consoles, version 6. The ETC Light Minds Think Alike blog post some of the new features of version 6.
One of the interesting updates in v6 is that there are even more, yes MORE presets available from 0.oo1 to 9999.999.  Personally, I don't think that will be enough as I need that 10,000.000 preset, makes numbering easier.
Here is a basic run down of some of the other updates and changes made in v6.
Channels Views – Re-design of what information is shown in the channel box
Blind Editing – moving light controls brought in.
New Docks – Designer summary, timecode, live dock have all been added.
Learn Profile – Learn a fade profile for crossfades in the main playback
Masters, Masters, Masters – Updated to 80
Jam Mode – Added Two Scene Maters to create a look blind
New Image Effects – Uses the Effect Playback concept to associate a layout with channels with source image or text.
The new version 6 will be available for download sometime during the summer 2009.
Share

Comments