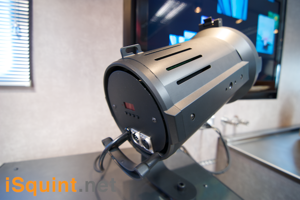 We received word from our Washington contact with more information on the Wybron Cygnus LED Wash fixture.  Not only did we get more info, but some photos and a nice little video.
The Cygnus is expected to begin to ship late in December or first part of January 2010 with an expected retail price of $2,500 USD. As we mentioned earlier, the Cygnus uses 23 Cree LEDs at 5 watts apiece with an 8 degree lens. In the production model of the Cygnus, there will be an additional channel that will control the color temperature of the White LED while adding the necessary color LEDs on the fixture to mix any where from 3400k to 9000k.
We confirmed that the Cygnus does run off a standard 120v power supply and does not require the 4-pin power supply like most of Wybron's other products.
More Photos of the Wybron Cygnus from within the Wybron Mobile Showroom
And a short video featuring Dusty Hudgins from Wybron giving us a brief demo of the Cygnus.
Share

Comments