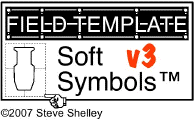 Seems like Steve Shelley has been quite the busy man lately. First he updates his book, A Practical Guide to Stage Light and releases his second edition. Now he releases his latest version of SoftSymbols Version 3 for uses with Vectoworks 2010.
SoftSymbols™ is a CAD-based theatrical lighting symbol package created in the VectorWorks® environment. Shelley designed the symbols with the patented icons used to create his award-winning series of Field Templates™.

Each hybrid symbol contains a Spotlight Light Info Record that lists default beam spread, color frame size, wattage, and candlepower information. SoftSymbols™ mimics the Spotlight structure—the symbols are organized in the same folders, and all the symbols are in 1/2" scale (if you're drafting in metric, keep reading! Version 3 breaks the data scale code!) SoftSymbols™ is designed for Spotlight, and can be converted to AutoPlot.
SoftSymbols™ V3 includes
Data Conversion Plug-ins, so that ONE SET of symbols can be used for either Imperial or Metric scales!
SoftData©, a 92 page PDF spreadsheet displaying data extracted directly from every resource.
Shelley's Section Collection, the series of 2D symbols that exist no where else.
More than doubles the number of symbols in other fixture libraries
Has all the latest up-to-the-minute symbols
Has web and phone contact info for every manufacturer
Reflects complete manufacturer's product lines
For more information or to purchase your copy of SoftSymbols V3, visit Field Templates website at www.fieldtemplate.com.  The full version of SoftSymbols for Vectorworks 2010 runs $120. USD and is available for both the Mac and PC.
Share

Comments