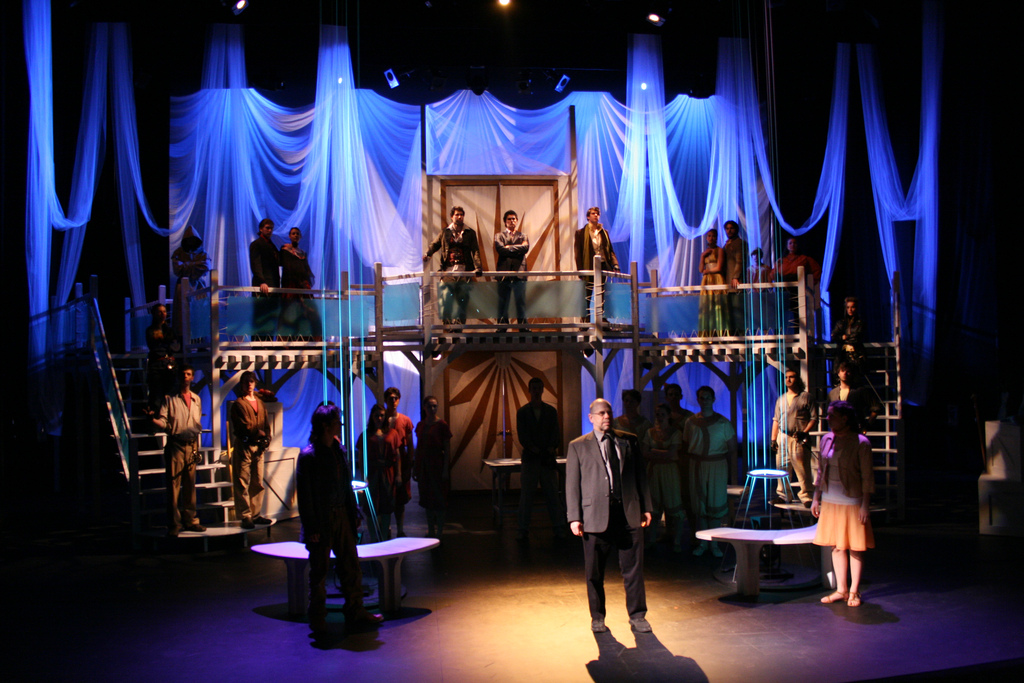 This weeks Friday Flickr Lighting Porn was randomly choosen for the images that have been added to our Flickr group by our readers.  The image above is a scene from Romeo and Juliet at State University of New York – College at Fredonia that ran this past spring. The lighting designer was Todd Proffitt, the lighting and scene designer at SUNY-Fredonia.  You may have also seen Todd at round the Twitterverse @tm204.
Todd Proffitt has been a freelance Lighting Designer for over 15 years. Currently, he works for the State University of New York– College at Fredonia Department of Theatre and Dance as the Associate Professor for Lighting and Sound Design. He holds a Master of Fine Arts degree in Theatre Design from Texas Tech University and a Bachelor of Fine Arts degree from Central Missouri State University. In 1999 was the recipient of The United States Institute of Theatre Technology's Barbazon Award for Lighting Design. He has served as a lighting designer for such companies as Cortland Repertory Theatre Company, The Chautauqua Conservatory Theatre Company in Chautauqua Ny; Buffalo State College; The Paul Robeson Theatre in Buffalo Ny; The Producers Circle in New Orleans; Anglefire Mountain Theatre Group in Anglefire, New Mexico; Central Missouri Repertory in Warrensburg, Missouri; and Opera Iowa in Des Moines, Iowa. Before moving to Fredonia, Mr. Proffitt served as Interim Technical Director for Loyola University in New Orleans.
Thanks Todd for add this and some other great photos to the Flickr pool!  If you want to contact Todd, you can reach him through twitter, @tm204 or through his website at www.toddproffitt.com.
Want to display your lighting design work to the world?  Add your photos to our Flickr Pool.  It is as simple as registering with flickr.com and then upload some photos and add them to the flickr group.  Each week we randomly choose a photo from the flickr pool and feature here on iSquint on fridays.
Share

Comments