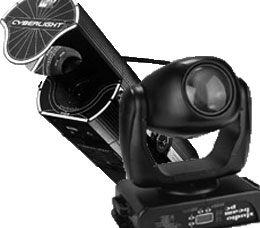 The good folks over at controlbooth.com have a report out that High End Systems/Barco have discontinues the Studio Beam and Cyberlight series Luminaires. Both of these fixtures have been used and loved by the entertainment lighting industry for over 10 years. There have been rumors that High End/Barco are moving away from producing traditional moving head/mirror fixtures and heading in the direction of digital projection like such fixtures as the DL3 digital projection moving head.
With the end of these two fixtures, it further proves that rumor that High End/Barco is in the move to just produce digital media servers and moving heads.  This is a true shame as many industry professionals loved these fixtures for specific reasons.
The complete run down as controlbooth.com reports:
At Barco/High End Systems, we are committed to developing new visual technologies that will excite audiences in new ways and boost attendance at entertainment venues.

As we continue to launch innovative new products, the time has come to discontinue some old favorites:

Cyberlight Series
Studio Beam

We will only take orders for these products through Jan. 31, with full distribution by March. We will continue to warranty and support these products indefinitely.

We have launched several new products this past fall and continue the parallel development in all four product categories: Digital, Automated Luminaires, Control and LED. At LDI 2008 we introduced the DML-1200 Digital Light (shipping now), the DMX Processor 8000, SHOWGUN 2.5 (shipping now) and SHOWBEAM 2.5 (shipping in spring).
Share

Comments