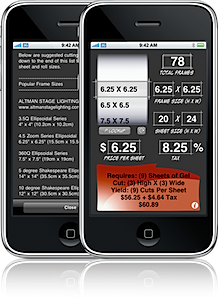 Around the time of LDI last year, we wrote an announcement that Michael Zinman released the PockLD application for the iPhone. Ha had also released another application called GelCalc. Just recently, GelCalc was upgraded to version 1.2 with some minor changes.
The new changes include:
App will save the last state when reopened
Uses the devices settings only to change currency symbol
Frame height and Frame width are now linked, frame width can be changed separately.
Minor GUI and programming changes.
Some of the Key Features of the Program include:
Lookup of over 100 popular frame, sheet and roll sizes.

Uses inches or centimeters.

Determine total sheet needed for any frame size and qty.

Determines the total yield per sheet.

Determine the best butting direction for rectangular frames.

Calculates the pricing information, including sales tax.
GelCal does requite an iPhone or iPod touch with the iPhone 2.0 software update. To see a video of GelCalc in action, visit Michael's website at www.zinmansoftware.com. GelCalc is available on the iTunes Music/App Store for $4.99, click here for the direct link into iTunes.
Share

Comments