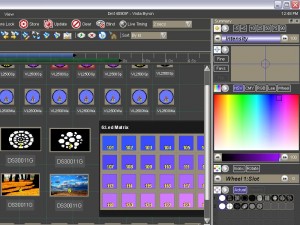 Back at PLASA 09, Jands Vista introduced their latest software upgrade to their Vista line of consoles, Byron.  Jands had demo's of Byron running at LDI 09, but alas, I did not get a chance to see Byron running in person.  But since then, I have meet Byron and he is a pretty cool dude, I mean OS.
What impresses me about Byron is that is uses Apple's proven Bonjour™ networking technology to configure a lighting network, a 'no IT guy' solution that makes backup and more advanced networking operations easy. With Byron you'll never have to enter an IP address or configure a DNS server again.
Another key addition to Byron from Vista's old operating system is the addition of a command line. The Byron command line is completely synchronized with the interface, showing the clip or step you're editing at any time. When you type a command you see the equivalent action happen on the fixture icons and control palettes: all pen-driven commands are interpreted into plain language on the command line in real time. Of course, the command line supports all well-known numeric keypad syntax (for example, typing '1/26*55' would set fixtures 1 to 26 at 55% intensity).
If you're used to selecting lights and setting levels by numbers, you can use the command line in combination with the Vista's visual interface to give yourself even greater control than before.
Some of the other new features of Byron:
tracking backup that synchronises a second console or PC to take over seamlessly in the case of a failure
a second-generation timeline providing visual split fade times, a per-step timing structure that lets you instantly set fade and delay times for some or all the events in a step, and new filters that make it easier to see what's going on with big rigs
an extended generic fixture model that doesn't limit the use of non-standard or overlapping features and adapts to all types of new and unusual fixtures
a completely overhauled user interface reflecting user feedback, with search functions built in throughout
a brand new visual method of controlling media servers
new Matrix layouts and effects for use with LEDs and other fixtures
Byron will be a free download and upgrade for current uses when it is finally released.  A time line for release has not be announced, but should be sometime during the first quarter of 2010.  To learn more about Byron from Jands Vista, visit their website at www.jandsvista.com.
Share

Comments