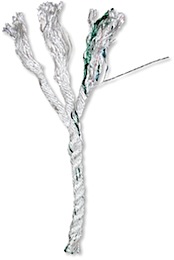 We received a message from J.R. Clancy today that the US Patent Office has issued Patent 7,461,500 to J. R. Clancy for a "System of Determining Wear to Rigging System Lines" or more commonly known as SureGrip™ rope. This is the only theatrical rope with a wear indicator to tell users when the rope should be replaced.
From the J. R. Clancy Press Release:
SureGrip™ was developed by J.R. Clancy specifically to address the safety concerns of worn hand lines. Excessive wear is indicated by a "telltale" red thread woven into the rope – when red threads are visible, it's time to replace the line.

"Theatre safety is important to us," said Bob Theis, President of J. R. Clancy "and the development of SureGrip is part of our ongoing work to reduce risk backstage."

In addition to the patented wear indicator, the rope contains an identifying ribbon with Clancy's name, contact information, and year of manufacture. A pair of "Clancy green" marker threads on the exterior of the rope indicates that it's Clancy's SureGrip.

SureGrip™ is available in 3/4" diameter in either white or black and has a breaking strength of 10,000 pounds; more than double that of manila line. The familiar 3-strand twist construction is traditional in rigging hand lines. However, unlike the traditional manila rope, its synthetic blend resists rot or stretch from environmental factors such as heat or humidity.
To learn more about the J. R. Clancy SureGrip rope or to locate a dealer near you, visit their website at www.jrclancy.com.
Share

Comments