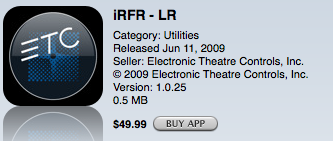 It has been a long time since we last mentioned the ETC iPhone app, the iRFR. Today the iRFR iPhone app has shown up in iTunes! The iRFR is a remote focus unit similar in both function and layout of the Radio Remote Focus Unit but runs on the Apple iPhone and iPod Touch and works of the WiFi connection.  The iRFR is able to function as a remote for the Eos, Ion, Element, Congo and Congo Jr. Lighting consoles.
Before you get carried away and download the iRFR, to work with the Eos, Ion consoles, they must be running an unreleased version of the console software, version 1.5.  Version 1.5 is expected to be released in the near future.  Good news though if you are a Congo or Congo Jr. user, the iRFR needs the console software version 5.1 which is already released.
An additional piece of hardware that you will need to incorporate into your lighting network is a wireless access point in order for the iRFR to connect to the console. It is recommenced that you dedicated a wireless access point for the lighting network and not attach it to any existing computer or internet connection. For more information on setting up a wireless connection, visit the iRFR wiki page.
The iRFR retails for $49.99 through the iTunes app store.  There are two version of the iRFR app within the iTunes app store based on the charity that you would like to contribute to. The first one being the iRFR-LR where proceeds will go to Light Relief and the second being iRFR-BTS where the proceeds will go to Behind the Scenes.
Share

Comments