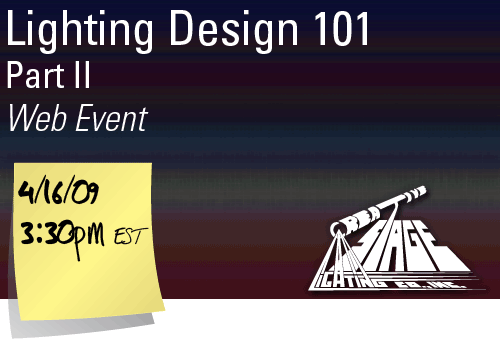 We received a message from Creative Stage Lighting about the up coming Web Event on Lighting Design 101, Part II.  The web event happens at 3:30pm (est) on April 16th.  This Web Event is a follow up to Part 1 of the Lighting Design webinar which was held on February 19th.
The Webinar will be lead by the editor of PLSN, Richard Cadena.  Richard is a ETCP recognized trainer, and author of entertainment lighting books such as Electricity for the Entertainment Electrician and Technician.  He is joined by lighting designer Jeff Ravitz. Jeff is the lighting designer for such artist as Bruce Springsteen, the Black Eyed Peas, and Dave Matthews.  Together they will cover how each other approaches the same project.
Topics include:
Lighting instruments, positions, and purpose
Plotting, modeling, rendering and visualization
Color combining and scene building
Programming and playback
For more information on this FREE Lighting Design webinar, click here.  Register for the webinar now.  Did you miss the first one?  Subscribe to the podcast to watch the first Lighting Design webinar on your computer or other device such as your iPod.
Share

Comments