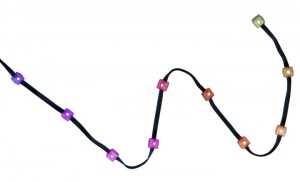 Straight from the Press Release on this one:
Martin Professional's new FlexDOT S1™, LED video displays break free from the flat, rectangular format. Fully customizable and DMX512 controllable, these bright and lightweight strings of LED pixels allow for the creation of customized video solutions with maximum artistic flexibility and a minimum of effort.
FlexDOT is a perfect solution for integrating LED video technology in stage sets, clubs, retail, even outdoor environments, enabling unique display solutions to be realized without the long lead times or costs associated with a 'from scratch' design.
The FlexDOT concept is simple – individually controlled, intelligent, full color pixels mounted on a flexible cable that allows designers/architects to create unique and customized LED video displays. Each pixel (dot) consists of a bright RGB LED driven by its own processor and individually addressable for independent control of color, special effects, and animation. Pixels can be arranged as needed and later mapped to the image using pixelmapping software. FlexDOT can be controlled from any DMX512 source such as Martin's Maxedia™ media server.
At 2.5 candela per pixel, FlexDOT is twice as bright as competitive products and provides an image quality and level of performance on par with the best conventional LED screens. This flexible, lightweight solution is also efficient and long-lasting and can be arranged into nearly any form to provide designers unlimited options to enhance interior and exterior spaces.
For more information on the Martin FlexDot, visit their website at www.martin.com.
Share

Comments