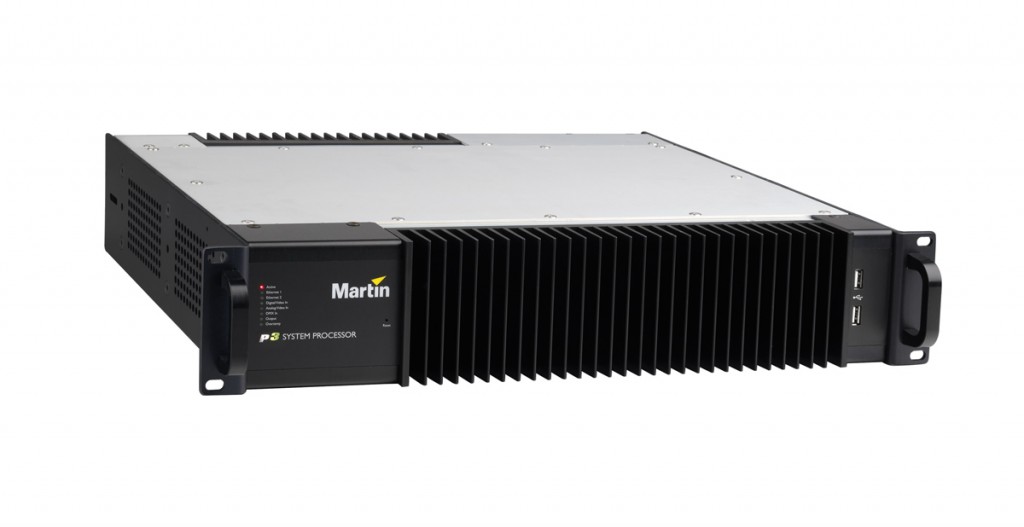 Martin Professional has just released a new system controller for LED screens and systems.  What is interesting to note about the P3-100 System Controller is that Martin does not call this a media sever but "an interface between the source and screen".  The P3-100 controller acts as a interface between the lighting desk and the LED output, weather that be an LED screen, curtain or array.  The controller lets a programmer operate the LED screen like it was a lighting source via the desk with such abilities as brightness, image rotation and position independently from the actual video source.
With the P3-100 Martin introduces P3 technology, designed to bring the plug and play nature of DMX to the world of video. Based on Gigabit Ethernet and Cat5e wiring, the P3 technology removes the inherent limitations of video-type protocols for easy connectivity and speed of set-up. It enables bi-directional communication with the LED screen, creating a network that greatly increases the speed of setup and mapping. Splitting the signal can be done with standard off the shelf Gigabit Ethernet switches. Built in test patterns can be used to check the screen before use. All LED panels communicates with the P3-100 to report any problems and all settings can be conveniently stored on a USB stick.
What is amazing about the P3 technology contained with in the controller is that it can support 500,000 pixels over a single Cat5e cable with HD quality transmissions.
To learn more about Martin and the P3-100 LED System Controller, visit Martin's website at www.martin.com.

Share

Comments