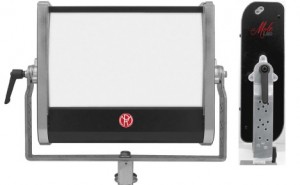 Mole Richardson, one of the oldest lighting company's has stepped into the LED world this year at LDi with the announcement of their latest fixture, the MoleLED.  Mole Richardson is a trusted name in the Film and Video world with the distinguishing pink lights. But don't let the color throw you off, their fixtures are trusted by industry professionals around the world for their durability, design and of course output.
Mole worked with OSRAM Sylvania to develop the MoleLED using the OSRAM Sylvania proprietary Phosphor Dome Technology to offer a Tungsten and Daylight LED fixture. The MoleLED fixture consists of 12 OSRAM KREIOS LED circuit board, each containing 20 high output LEDs for a total of 240 individual LEDs, each topped with a remote phosphor dome. The phosphor domes are an OSRAM proprietary design, which are blue light activated to produce light in two exact color temperatures, Tungsten and Daylight.
Measuring in at 15″ high by 3.5″ deep and just 18.25″ wide and a total weight of only 13 lbs with the yoke, the MoleLED is perfect for location lighting were lightweight and small compact design is required. There is local or DMX controlled dimming from 100% to 10% with auto sensing power supply from 100-240 volts and uses just 0.6 amps max draw on a 110 volt AC power input.
To MoleLED is expected to being to ship early 2010.  A pricing has not been released as of yet.  To learn more about the MoleLED, visit Mole Richardson's website at www.mole.com.
Share

Comments