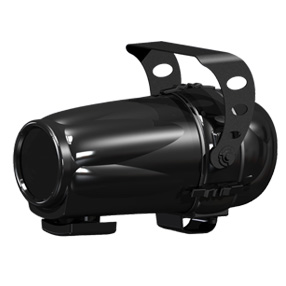 Just over a week ago, we got wind of some more information about the latest color mixing lighting fixture from SeaChanger, the Nautilus. SeaChanger has just recently added the Nautilus to their website with more details about the outdoor rated color mixing fixture.
The Nautilus is the latest in the SeaChanger line of dichroic color changers designed to deliver an energy-efficient class of high intensity lighting, using proven plasma technology. Nautilus is the first outdoor color engine with a LIFI® plasma source that delivers 10,000 lumens out of the fixture while using only 320 watts of power. The LIFI® source leads a new class of solid-state plasma light sources that combine the best features of solid-state electronics and full spectrum plasma emitters.  The results are long-life, energy efficiency and complete color spectrum for general and specialty lighting applications.

With a lamp life of 15,000 hours, Nautilus is the perfect solution for hard-to-reach installations, domes, atria and theme parks. The Nautilus has a CRI of 92, making it an ideal fixture for museum and gallery lighting. The weather-ready Nautilus, with an IP54 rating, is perfectly suited for lighting applications in theme parks, zoos, gardens and outdoor festivals.
Pricing and availability on the Nautilus has not been released yet, but we have heard from reliable sources that the Nautilus will be splashing down down at LDI this year in Orlando, FL.  If you are attending LDI, be sure to stop by SeaChangers booth, 321. Can't wait till LDI to learn more about the Nautilus, visit SeaChangers website at www.seachangeronline.com.
Share

Comments