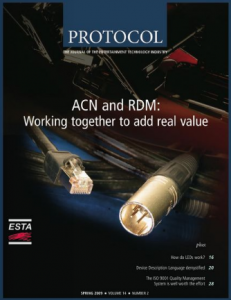 Right before we left for our nice long memorial day weekend, we received the latest issue of ESTA's Protocol magazine in the mail. While relaxing in the shade, we had a chance to read the magazine from cover to cover.
The cover article, ACN and RDM, Working together to add real value, caught our eye and was read first.  The article explains the uses and development of ACN and RDM within the entertainment lighting industry. The article covers how to leading manufacturers are working together to bring the standards together across the industry.  We highly recommend reading to article as ACN and RDM are becoming increasingly common place in the industry.  You can download the PDF of the entire article here.
In addition to the ACN and RDM article is another article on the implementation and usage of DDL (Device Description Language) which works hand in hand with ACN.  You can download and read the complete article here.
The ESTA Protocol magazine covers news and updates on industry standards.  It is avilable for reading online or you can sign up and receive your very own copy in the mail for free.
Share

Comments