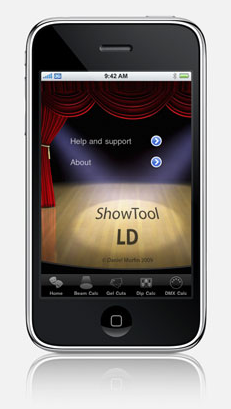 We just read over at JimOnLight.com about a new iPhone app for Lighting Designers called ShowTool LD by Daniel Murfin.  ShowTool LD packs 4 applications into one, dispswitch calculator, DMX calculator, gel calculator and a beam calculator.  All of this for only $3.99 through the iTunes App Store.
What is nice about ShowTool LD is first, 4 individual apps that are currently available through iTunes have been rolled into one application.  Next of course is the price.  Buying the four individual apps through iTunes can cost up to $7.97.  Then there is the fact that you have four individual applications to keep track.  and of course, only one of those apps can be open at one time.
JimOnLight.com has six free versions to give out in a contest.  We recommend high tailing it over to JimOnLight's post about the ShowTool LD to win a free copy.
More information about Daniel Murfin's ShowTool LD iPhone app can be found on his website at http://www.dsmurfin.co.uk.
Share

Comments