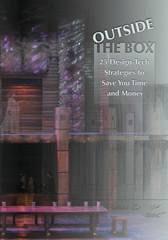 While walking the show floor here at SETC (Southeastern Theatre Conference), we noticed that SETC had a booth selling shirts to help support the organization and the endowment. While contemplating which shirt to purchase to help support SETC, we noticed a publication that SETC put together called Outside The Box: 25 Design-Tech Strategies to Save You Time and Money.
The book is the first in the SETC Field Guide Series which is a collection of new articles and previously published columns from the popular "Outside the Box: Design-Tech Solutions" column in  Southern Theatre Magazine.  Both the book and the column, which was originated by Carl Lefko, (Currently the President of USITT), and later edited by Chistopher D. Zink and Stuart Beaman, feature innovative and cost-saving solutions to design-tech problems.
Some of the guides in the book include:
3-D Bricks
Foliage or Trees
Pop-Up Room
Moulding
Trash to Treasure
Onstage Pool
Curved Staircase
Star Drops with LED's
Creating Custom Gobo's
and our favorite, Creating Snow
The book's forward is written by Tony-Award winning Costume Designer William Ivey Long.
"An invaluable tool for all craftspeople in the theatre. . . . It is my hope that OUTSIDE THE BOX will become a standard for every theatre student and professional, and I look forward to future editions of this book."
At the time of this writing, it is near the end of the second day of SETC in Birmingham Alabama.  If you are still attending SETC on Saturday, stop by the registration desk or the SETC booth to purchase your copy of OutSide The Box.  For those that are not in attendance, you can still purchase your copy through SETC's website at www.setc.org.  The book sells only through SETC for $18.
Share

Comments