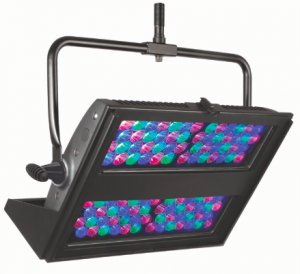 This year at LDI, Philips/Color Kinetics released quite a few new LED fixtures. The fixture pictured to the right is the ColorReach TR Powercore. Color Kinetics designed the fixture for the rigors of the rental and entertainment markets with high performance LEDs to create a powerful floodlight.
ColorReach TR Powercore offers over 5,000 lumens of output, light projection of over 500 feet, and the ability to natively generate millions of colors and dynamic effects without the need for maintenance-intensive colored gels, filters, or mechanical scrollers. New royal blue LEDs are standard with ColorReach TR Powercore to offer deeper, more saturated color projection in theatrical and touring projects.
The ColorReach TR Powercore offers a range of entertainment- and stage-specific features, including a lightweight yoke for mounting to pipes, trusses, and stands, and an optional accessory holder for freestanding installations. Available spread lenses, barndoors, top hats, egg crate louvers, and other accessories slide into the accessory holder for easy swapping. Optional 16-bit control provides ultra-smooth dimming. The six-channel fixture is also available with custom LED configurations in any combination of blue, royal blue, green, amber, red, and white LEDs in eight color temperatures.
For more information on Philips/Color Kinetics New ColorReach TR Powercore LED fixture, visit their website at www.colorkinetics.com.
Share

Comments