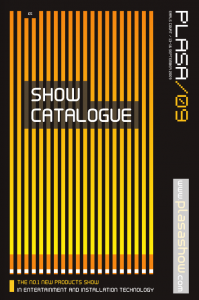 If you are attending the PLASA Show this year at Earls Court in London England, make sure you are prepared before you get there!  With just a couple of days before the show floor opens on the 13th of September, prep your self before hand by mapping out your adventures on the show floor and all the sessions being offered.
For the first time, PLASA Media has published the Show Catalogue before the doors open.  No more getting the Show Catalogue on the first day and spending time sifting through 100 pages of information to find the session or manufacturer on the show floor.  Get it all done before you even leave for the show!
The online version of the Show Catalogue is the same as the print version that you can get at the show.  It includes a full listing of all of the exhibitors with a quick reference guide listing exhibitors from A-Z as well as the ever useful show floor plan!
There is no PDF version available to download, but if you have a PDF "printer" installed on your pc, you can "print" the entire Show Catalogue from the online view and save as a PDF.
You can access the online PLASA Show Catalogue by visiting the Show's website at www.plasashow.com.
Share

Comments