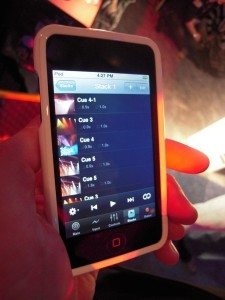 While walking around the show floor this past weekend, I got a chance to talk to Synthe FX about their up coming release of Luminair 2.0. The developer and owner of Synthe FX, Ryan Hisey gave me a quick run through and preview of the iPhone app lighting console, Luminair 2.0.
Synthe FX has been developing some great new features as well as adding some features that users have requested.  Here is a run down of some of the new things Luminair 2.0 will feature:
Cue Stack playback with 5 different playback modes
Full group support
Cue image reference with CoverFlow browsing/triggering
Support for WYSIWYG POV image/data
Cut/Copy/Paste with tracks/groups/cues/stacks
Accelerometer for X/Y controls
While at LDI, Ryan did a presentation on Luminair and has just made the PDF for the presentation avilable for download.  We can expect the new version of Luminair in the first quarter of 2010.  Additionally, current owners of version 1.5 will be able to download Luminair 2.0 for free as a software upgrade.
To learn more about Luminair, visit Synthe FX website at www.synthe-fx.com or visit the iTunes App store to purchase your copy and download it.
Share

Comments