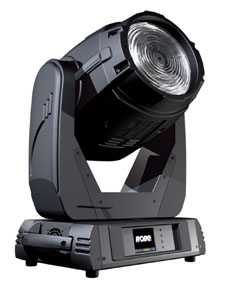 Robe Lighting launched a new line of moving lights at Prolight+Sound Frankfurt this past week called the Robin (Robe Innovative Concept).  The first fixtures in this new line up of Robin series of lights is the Robin 3 Plasma Spot, the Robin 300E Spot and the Robin 300E Wash.
The Robin series of moving lights utilize the latest in lamp technology, Lifi Plasma Lamp and the MSD Gold 300/2 MiniFastFit lamps from Philips. Impressive results are archived in the color rendering output using the plasma lamp technology, while the punchy output of the Philips lamp is multiplied by a unique Hot-or-Not-spot reflector solution allowing remote hot-spot control.  This is just one of the latest technologies that Robe is developing and is patent pending.
The Robin 3 Plasma Spot is the first in a new generation of fixtures, coming complete with the features of every designer's dreams – An extreme light output of 18,000 Lumens, a perfect color rendering index (94), an extremely flat and even light beam (1 : 1) and a lifespan of 10,000 hours.
The Robin® 3 Plasma Spot™ also offers a 20 – 100% dimming capability and a semi-hot re-strike facility of less than a 20th of a second for the full lamp brightness to be restored after shutting off. There is an exceptional optical efficiency of 54% and a lamp luminous flux of 22,000 Lumens, giving the fixture an incredible output of 10,000 Lumens – never previously achieved from a 266W light source!
The Robin® 300E Spot™ has a series of specially designed modular features including a large 10° – 40° zoom, CMY+CTO, static and rotating gobo wheels, color wheel, frost, iris and many more.
This is a neat, punchy profile fixture with superior functions like the large linear zoom and dynamic hot-spot control, making it ideal for a wide range of applications. It comes with a full package of rotating and static gobos plus full CMY+CTO. The colour wheels have been developed to give a standard 'building block' base for any show, and advanced features like variable frost, linear iris, rotating prism and speedy mechanical shutters provide subtle and detailed fine-tuning.
The Robin 300E Wash is a flexible, lightweight, silent unit with an extremely wide zoom of 5° – 45°. The compact dimensions make it easy to conceal whilst providing an efficient wash effect able to achieve the gentlest of pastels to the richest of saturated colors.
The enhanced CMY+CTO system mixes real colour correction quickly and accurately. The 7+1 colour wheel with its easily replaceable magnetic positions can spin funky rainbow effects at both high and low speeds. The new innovative remote hot-spot control combined with an extremely fast iris delivers the maximum lumen output at any beam angle from 5°- 45° – another incredible feature that is unique to this fixture.
For more information on the New Robin line of fixtures or to locate your local Robe dealer, visit their website at www.robe.cz.
Share

Comments