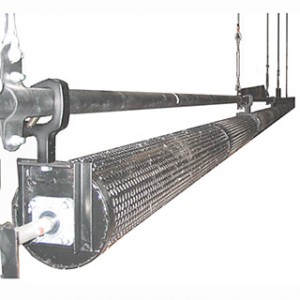 The leaves are turning, the air is getting crisper.  That must mean that winter and snow are right around the corner.  Rose Brand has a jump on winter time with the introduction of their latest product, the SnowStar Snow Machine.
The SnowStar Theatrical Snow Machine is a motorized, rotating, perforated aluminum tube that provides snow effects from a dusting to a blizzard. Five foot drums with a diameter of 8″ connect together to create the desired stage length. 1 motor can drive from 1 to 16 connected 5′ sections. The 3/8″ perforations perfectly match Rose Brands FR Paper Snowflakes for the ultimate snow effect.
With a retail price per 5′ section of $550, this could be quite the investment in a theatre to make it snow on stage.  Not only do you need enough 5′ sections to cover the part of stage you want snow to fall on, but you must also invest $1,175 dollars in the motor to rotate those sections. And then of course there is the clamps and bearings to hang the SnowStar system at $70 per 5′ section. The last and final piece of the puzzle you would need make it pour snow on stage, a 25lbs. bag of FR Paper Snowflakes also from Rose Brand at $300. Of course, the nice part about this entire system is that it is completely reusable!
For more information on the Rose Brand SnowStar Snow Machine, visit their website at www.rosebrand.com.
Share

Comments