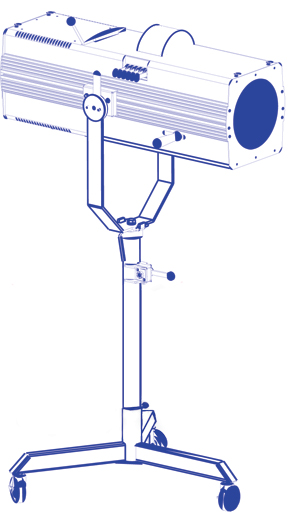 A short time ago, we mentioned a rumor floating around that Lycian is preparing to add a new follow spot to their line up.  Lycian just announced the release of the new followspot, the Mini Arc 1233. The Mini Arc fills the huge gap in follow spot market, a bright discharge followspot that is economical and affordable by smaller venues.
The 1233 Mini Arc meets the challenge of an affordable HMI/MSR based followspot that offers good output and required features at a value price point. The 1233 Mini Arc operates on 110V and should appeal to schools, houses of worship, corporate events, clubs, and small theatres due to its bright, clean output, which comes from well designed optics including the use of a dichroic glass reflector, the company says. The compact, lightweight unit features a fully closing nichrome iris; dowser; fine focus mechanism; gobo slot; and silent, cool, no-fan operation. The manual color boomerang has six color rings. It comes complete with castered base, and line cord with connector.
Lycian has not released any more details on the new Mini Arc fixture.  We are awaiting the updates to take effect on their website, www.lycian.com.  Shipping and availability has not be released either, but we can mention the retail price at $2,795.
Share

Comments