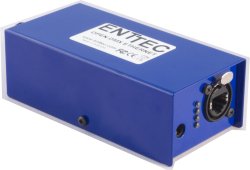 Our tip line is getting filled up with rumors running around the industry these days. The latest rumor that has been sent to us is that Enttec, the makers of lighting control products such as the Open DMX Ethernet (ODE) device pictured left have been developing a firmware upgrade for the ODE.
The current model of the ODE supports 1 universe of DMX over Art-Net and ESP.  The firmware upgrade would merge up to 8 art-net streams coming from different IP addresses of any origin to make the ODE a 8:1 merger of Art-Net data.
The firmware upgrade is still in beta testing and not available just yet. The firmware upgrade i for the first 2 universes is a free firmware upgrade.  The additional 6 universes would be available though a paid for firmware upgrade through Enttec.  This would give a total of 8 HTP Art-net inputs for an ODE.
to learn more about the Enttec Open DMX Ethernet (ODE) device, or to purchase your open, visit Enttec's website at www.enttec.com.
Share

Comments