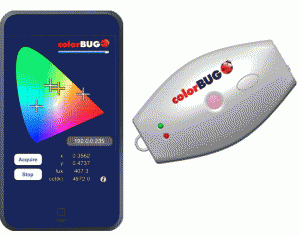 Around the time of LDI last year, we mentioned the announcement of a new measuring device from SeaChanger, the makers of the CMY color mixing engine for the source four. After seven or eight months now, SeaChanger has perfected the ColorBug and is ready to release it.
The colorBUG is an ingenious handheld sensor for testing color and luminosity in studio, architectural and theatre applications. Perfect for lighting designers, photographers and producers, colorBUG is no larger than a typical mobile phone and allows you to determine output with greater precision than ever before.
In concert with a free downloadable App on the iTunes App Store, the colorBUG allows you to share data with your iPhone or iPod touch. There's simply nothing more convenient or clever for creating the perfect color and lighting environment.
The colorBUG makes analyzing data a snap. With its wireless capabilities, colorBUG communicates directly to your iPhone, iPod touch or Mac Wireless Router.
For more information on the ColorBug, visit SeaChangers website at www.seachangeronline.com. Visit the iTune App Store to download the ColorBug App now.  Then contact your local SeaChanger dealer to purchase the ColorBug.
Share

Comments