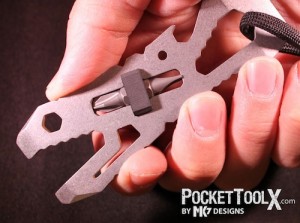 Tools tools tools, we can never have enough tools.  But what about tools that do more then one job?  How about The Piranha from PocketToolX.com?
The PIRANHA is a single-piece, multi-purpose pocket tool that is constructed from heat-treated and corrosion-resistant S30V Stainless Steel with a built-in neoprene double-ended driver bit holder.

Keep this slim tool in your pocket and you'll always be able to tighten screws, loosen bolts, pry things open and pop the tops on your favorite beverages.
Once I read that the Piranha opens my favorite beverage, I was SOLD! Here are some more features of The Piranha:
S30V Stainless Steel 0.160″ Thick
Heat-treated to 58-60 HRC
Smooth stone-washed finish
Double-ended bit holder (P2, #8)
Open and box Wrenches: 9/16, 1/2, 7/16, 3/8, 5/16, 1/4
Bottle opener, nail puller, scraper and pry ends
PocketToolX is taking pre-orders right now through their website, www.pockettoolx.com.  US and Canadian orders receive FREE shipping for all pre-orders which are expected to begin shipping in December. For $49 USD, this just might be a great stocking stuffer for the techie in your life!
Via: Engadget
Share

Comments